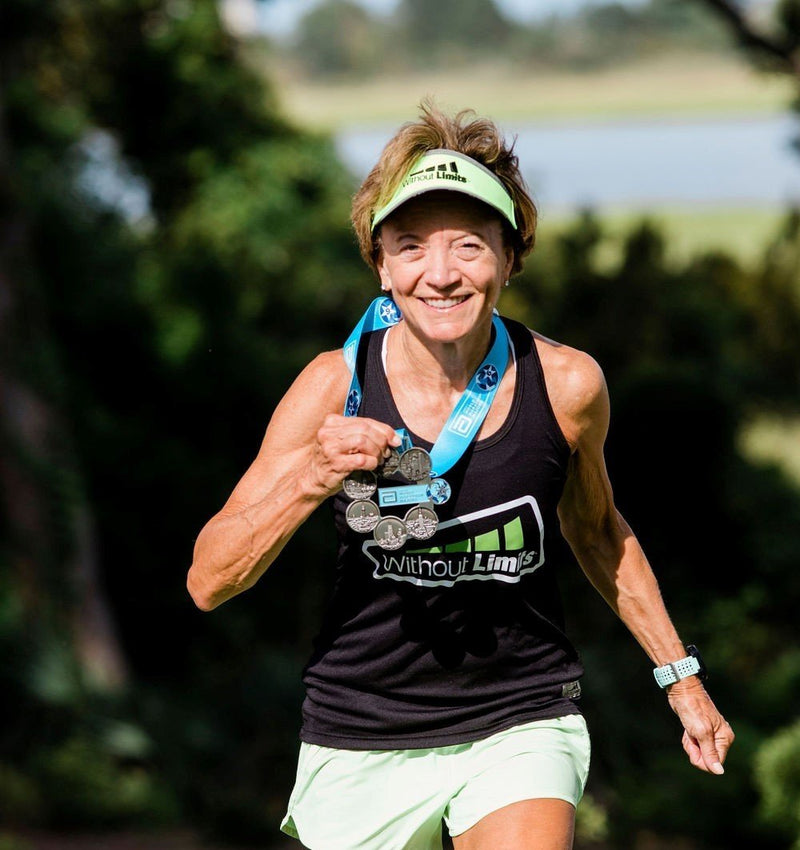 Following the 2019 London Marathon, there are 6,133 World Marathon Majors Six Star Finishers worldwide. Pam Keenan is one of only seven people from North Carolina to complete the Abbott WMM and earn the Six Star Finisher Medal. The woman who started running nine years ago at age 57 to join her daughter's bucket list, is now a member of one of the most exclusive running clubs on the planet.
Whether she realizes it or not, she has inspired a lot of people in the running community and is a hero to so many.
Pam is laser-focused and has kept on the road to her dreams, while enjoying world travel and finding interesting tangents along the way. We caught up with her for a little conversation on her running journey. Read her story in our Runners Essentials Athlete Profile.


I started running in the fall of 2010 when I agreed to run a half marathon the following February with my daughter. I am definitely motivated by prizes and medals because I ran my first marathon just to earn a special medal at Walt Disney World. It wasn't just a marathon, my first was the Goofy Challenge, with a half marathon on Saturday and a full marathon on Sunday resulting in 3 beautiful medals! 
The following year I did the Dopey Challenge, 4 consecutive days of racing with 5k, 10k half and full as my second time to run a full marathon. My third was the Wilmington full, at the time called Quintiles and I earned my first Boston Qualifying time.

After that, I focused on marathons and had a goal to complete the World Marathon Majors before I turned 65. My favorite races include my first Boston Marathon with my big sister running by my side and the Berlin Marathon when I ran with a friend and earned my Six Star Finisher medal.
I have many people who I consider running heroes….my Without Limits teammates and especially those I see weekly at practice. The commitment of the runners and coaches makes them all heroes to me. And yes, I also consider Joan Benoit Samuelson my hero as someone who dedicated their life to their sport…she is a totally unassuming athlete. A little fun fact is that I went to college with her brother. 
The toughest aspect of running for me is getting out of my comfort zone at practice. My favorite part is passing people at the end of a marathon!
Last fall, I decided to try the newly released Without Limits Runners Daily Vitamin Formula. As a skeptic, it was hard to imagine a pill could make a change for me. However, after the first month, I definitely noticed an improvement in recovery time from hard workouts. Strength training is better, and overall my running has improved too. Most recently, I ran the Boston Marathon and earned a time my coach, not me thought was possible, with a nice cushion for next year's race. A better diet, and these supplements have definitely contributed to my success.
Runners Essentials Daily Vitamin Formula has improved my recovery and ability to perform at the gym, at Without Limits run workouts, and I have seen my VO2 Max improve during the last six months.
Going forward, I have the desire to accomplish more things despite the aging process. While I know PR's may not be plentiful at my age, my biggest goal is to still be running the Boston Marathon when I turn 80!
"Run Forever" - Art Ives
"The real purpose of running isn't to win a race. It's to test the limits of the human heart." - Bill Bowerman
---
RECOMMENDED 
---
Pair some text with a product to highlight features.
---