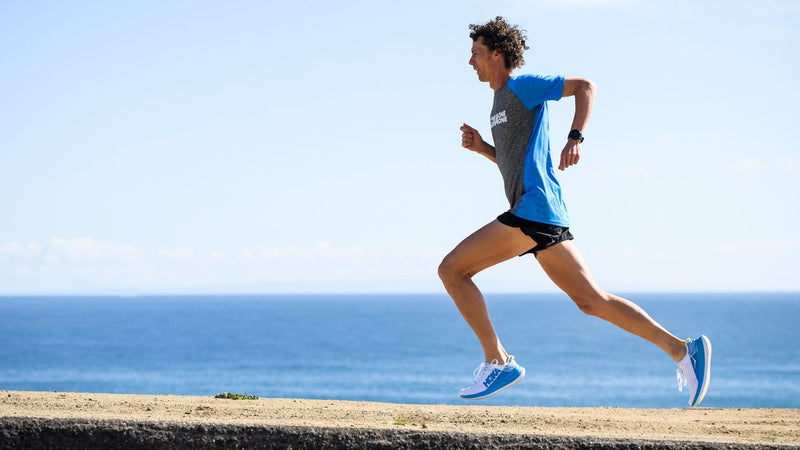 We tested three new kicks that incorporate the controversial feature
By Martin Fritz Huber |
In 2017, Nike released the Vaporfly 4%, a racing shoe engineered to dramatically improve running economy and help the world's fastest marathoners test the limits of human performance. (At $250, the 4% would also test the limits of what a rational person might be willing to shell out for a pair of mass-market sneakers.) Unlike typical racing flats, the Vaporfly was lavishly cushioned with a proprietary ultralight foam dubbed ZoomX, to keep shoe weight down to 6.8 ounces.
But the foam was only half the story. The Vaporfly's midsole also included a spatula-shaped carbon-fiber plate that the brand said was meant to help fling the runner forward with every stride—or to at least create a convincing illusion that something like that was happening. "I feel like I'm running downhill," Nike-sponsored marathoner Galen Rupp purportedly said the first time he tried it.
Ever since Nike launched the first Vaporfly, which has since been updated twice, there have been debates about whether the shoe—specifically the carbon-plated midsole—should be allowed in competition, with message-board posters agitating about "spring-loaded" soles and "technical doping." Research seems to indicate that the foam contributes a greater boost in running economy than the carbon plate. But that is partially because there is not yet a clear consensus on how the plate is supposed to work. Nike just released a small study to help shed some light on the issue, though it left open the question of whether the foam was providing the lion's share of the advantage. 
For now the carbon plate remains street legal. (As far as I'm concerned, if Eliud Kipchoge can set an IAAF-ratified world record in a plate-abetted shoe, the rest of us shouldn't have too many qualms about getting in on the action.) What's more, the 4% is not the only running shoe to include it. Nike has given another shoe model the same piece of hardware that had 4% wearers giddily "running downhill," and Hoka has come out with its own version. I decided to compare these three models to see what all the fuss was about. 
The Shoes
Nike ZoomX Vaporfly Next%
Heel Height: 32 millimeters 
Forefoot Height: 24 millimeters
Drop: 8 millimeters
Weight: 6.8 ounces
Price: $250
The latest supercar to peel off the Nike assembly line, with 15 percent more ZoomX foam than its 4% predecessor, the Next% is intended for racing distances from the 5K to the marathon. Runners who liked the 4% but were dismayed with the shoe's inability to grip the road on wet days will be happy to learn that Nike has added a tread pattern and deep grooves similar to what was previously only featured on the limited-release Vaporfly Elite.
Hoka One One Carbon X 
Heel Height: 32 millimeters
Forefoot Height: 27 millimeters
Drop: 5 millimeters
Weight: 8.7 ounces
Price: $180
For its most hyped go-fast shoe to date, Hoka also developed a new, lightweight foam called ProFly X. (What is it with all these X's?) The company, which was ahead of its competitors in the max-cushioning game, has paired the ProFly foam with a carbon plate to bolster the pronounced rocker the brand is known for. While Nike's plate looks like something you can flip eggs with, the Hoka version is flat and forked, supposedly to optimize supination and help you push off your big toe. 
Nike Zoom Fly 3
Heel Height: 32 millimeters
Forefoot Height: 22 millimeters
Drop: 10 millimeters
Weight: 9.9 ounces
Price: $160
In several ways, Nike's Zoom Fly 3 resembles the Next%. Like its more ostentatious sibling in the 2019 Zoom family, the Zoom Fly 3 fuses a light, semitranslucent upper with a plush midsole. (Both shoes incorporate the same carbon plate.) Unlike the Next%, however, the Zoom Fly 3 is made with Nike's React foam instead of the ZoomX, making the shoe heavier but significantly more durable. The Zoom Fly 3 also has a sock liner for additional comfort. 
The Tests
The last time I did a comparative shoe test, I took each model for two different kinds of easy runs and one quicker-tempo session. Since all three shoes in this test are designed for running fast, I decided to place a greater emphasis on speed. These shoes also all have considerable stack height, so I wanted to see how they would handle running around corners and tighter turns.
Eight Miles Easy 
Eight miles is my standard run. Since many shoe deficiencies only make themselves known after an hour of so of continuous running, I wanted to make sure to try each model on an easy run over undulating terrain, when I wouldn't necessarily be running as high up on my toes as I might be at a faster pace. I ran these runs at a pace between seven and eight minutes per mile. 
Winner: Carbon X
Not everyone is going to feel this way, but especially on easy runs, I prefer a shoe that I don't notice while I'm wearing it. The Zoom Fly 3's firmer outsole rubber made me feel like I was running on a pair oversized erasers, whereas the Next% is probably the most conspicuously squishy running shoe I have ever worn. (Outside's Alex Hutchinson once suggested that, were it not for the carbon plate, running in the 4% would be like running on marshmallows.) 
The Carbon X is stiffer underfoot than the Next% and has a relatively low heel-to-forefoot drop, but it still provides a massive amount of cushioning, so you never feel like you're hammering the pavement. For me, the Carbon X felt most smooth when running eight miles at cruise-control pace. Most likely, this is because eight miles easy is a distance and tempo at which I'm still comfortable enough that my form never devolves into a heel-striking mess the way it inevitably does in the latter stages of a marathon.
Fast 800's 
What better place to assess a shoe's ability to run turns at speed than on a standard 400-meter track? In order to get a sense of what these shoes felt like at a pace that (in my lost youth) I might have been able to sustain for a 5K, I went to my local track and banged out a few 800's at a five-minute-per-mile pace. 
Winner: Next%
This one came as something of a surprise, to be honest. While there has been ample evidence that the previous iteration of Nike's vaunted shoe provides a performance benefit in the marathon, I would have assumed that the Next% wouldn't be responsive enough for supershort, fast stuff. There's a reason, after all, why track spikes have remained largely (though not entirely) unaffected by the recent surge in max cushioning. 
And yet the Next% proved to be supremely effective at a five-minute-mile pace. Part of this is surely because this shoe is the lightest in this test. But I was also palpably aware of its forefoot cushioning, which is three millimeters more than the 4%. I don't know whether it was the carbon plate or that extra padding, but I definitely experienced a propulsive sensation when I was running at speed and pushing off my toes. The other two shoes felt a little clunkier at this pace and didn't provide as much pop with the toe-off. 
Two Miles Steady 
I also tested each of these shoes over a flat, two-mile loop at my (aspirational) marathon pace: roughly 5:50 per mile. (For both this test and the track test, I was very conscious about not running it like a workout. I gave myself a long recovery so that I could focus on the shoes and not on the fact that I'm kind of out of shape.)
Winner: Next%
Yes, it is perversely expensive, but as far as I'm concerned, the Next% is the best long-distance racer on the market. Though wobbly when you're just puttering about, they let you get into a groove and maintain it once you start rolling at marathon-pace tempo. 
If you spring for these shoes, I recommend breaking them in with a few easy runs and otherwise just saving them for race day. In my experience, the Vaporfly showed signs of wear on the sole after just one run. In the Next%, Nike has wisely added some rubber paneling to mitigate the problem, but they still feel pretty fragile. 
This isn't to say that the Next% is going to suit everyone. Runners with wider feet may prefer the Carbon X, which also felt very smooth, if a little heavy, at just under my 5:50 pace. (And no wonder: that was roughly the tempo Jim Walmsley maintained for 50 miles to break the world record in a launch event for the shoe.) While the Carbon X isn't optimal for up-on-your-toes-style short-distance running, I found its gentle rocking-chair effect most pronounced during the two-mile test, because I was consistently running off my midfoot. That said, if I were to run a longer distance at that pace, I would undoubtedly start coming down harder on my heel. At that point, the more aggressively propulsive ZoomX foam (and the larger offset ratio of the Next%) becomes an invaluable asset. 
Takeaways
If you're a hardcore heel striker, the Nike models will probably work better for you than the Carbon X. If you're a mid- or forefoot striker who prefers a cushioning system that doesn't call attention to itself, the Hoka may be more to your liking. 
As for whether a proliferation of ever more aggressive carbon fiber plates is going to revolutionize distance running, I won't hold my breath. The technology seems to be catching on: in September, New Balance is releasing a carbon-plated racing flat designed specifically for the road mile. But the jury is still out on how effective that plate is. I think lighter, more propulsive foams are still the bigger story.
---
More than just essential vitamins. Learn more about Runners Essentials Daily Vitamin Formula. Specifically targeted for runners and endurance athletes to maintain health, optimize performance and promote recovery.
---
Pair some text with a product to highlight features.
---